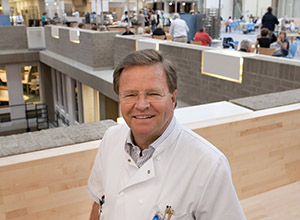 De Intergroup 0116-studie liet zien dat adjuvante chemoradiotherapie (CRT) voor maagcarcinoom geassocieerd was met significant betere overleving, en de MAGIC-studie liet profijt van adjuvante chemotherapie (CT) voor gevorderd maag/maag-slokdarmovergang carcinoom (GC/GEJC). De CRITICS-studie in Nederland, Zweden, en Denemarken vergeleek beide behandelingen. In 2018 is gepubliceerd dat er in intention-to-treat analyse geen significant verschil in werkzaamheid was tussen adjuvant CT versus CRT voor GC/GEJC. Prof. Cock van de Velde (LUMC) en colelga's publiceren nu in Annals of Oncology een per-protocol analyse van de studie.1

CRITICS randomiseerde 788 patiënten met stadium Ib tot en met IVa GC/GEJC naar adjuvant CT of CRT. Onder deze patiënten waren er slecht 478 die de behandeling volgens protocol begonnen: 233 in de CT-groep en 245 in de CRT-groep. De nu gepubliceerde analyse includeerde alleen deze patiënten. Er waren voor aanvang van de adjuvante behandeling geen significante verschillen tussen beide groepen in patiënt- en tumorkenmerken. De mediane follow-up na start van de adjuvante therapie was 6,7 jaar. De vijf-jaars overall survival was 57,9% (95%-bti 51,4-64,3) in de CT-groep versus 45,5% (95%-bti 39,2-51,8) in de CRT-groep (CRT versus CT gecorrigeerd HR 1,62; p=0,0004).

De onderzoekers concluderen dat in de per-protocol analyse adjuvant CT resulteerde in betere OS dan adjuvant CRT.



1.de Steur WO, van Amelsfoort RM, Hartgrink HH et al. Adjuvant chemotherapy is superior to chemoradiation after D2 surgery for gastric cancer in the per-protocol analysis of the randomized CRITICS trial. Ann Oncol 2020; epub ahead of print



Summary: Per-protocol analysis of the CRITICS study found that among patients with stage Ib-IVa resectable gastric or esophogastric adenocarcinoma after D2 resection adjuvant chemotherapy resulted in better 5-year overall survival than adjuvant chemoradiotherapy.